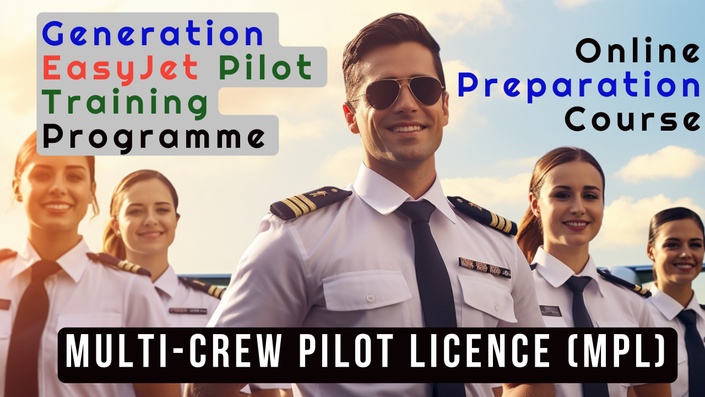 Generation easyJet Pilot Training Programme Selection - Online Preparation Course
Master the essentials for the Generation EasyJet Pilot Training Programme with comprehensive online preparation and guidance.
Watch Promo
Are you eager to ascend to new heights in your aviation career with one of the industry's leading airlines? Aviator Cloud is thrilled to introduce our all-encompassing "Generation EasyJet Pilot Training Program Online Preparation Course." This meticulously crafted course is engineered to prepare ambitious future pilots like you with the essential knowledge, skills, and self-assurance required to excel in the stringent selection process of easyJet's Multi-Crew Pilot Licence (MPL) training program.
Course Features:
Seasoned Mentorship:
Benefit from the wisdom and expertise of our experienced aviation educators as they walk you through each stage of the selection process. Whether it's written exams or face-to-face interviews, you'll get customized advice to highlight your strengths.
Comprehensive Syllabus:
Our course material is designed to address every element of the easyJet application criteria, from academic qualifications and English language skills to technical competencies and interpersonal qualities. Acquire a holistic understanding of what it takes to excel as a future easyJet pilot.
Hands-On Exercises:
Participate in simulated assessments, skill tests, and mock interviews to get a real sense of the selection process. Our practice scenarios are designed to equip you for peak performance when it matters most.
Emotional Intelligence Training:
Master the art of staying calm under stress, working seamlessly in a team environment, and excelling in problem-solving to ensure a top-notch experience for both passengers and crew members.
Boosted Self-Assurance:
Build the self-confidence you need to succeed in the selection assessments and interviews. Our all-inclusive preparation will enable you to demonstrate both your enthusiasm for aviation and your alignment with the easyJet values.
Individualized Assessments:
Get targeted feedback on your course performance, allowing you to refine your abilities and presentation skills before you go before the selection committee.
Collaborative Learning Environment:
Become part of a community of aspiring aviators with similar goals. Share insights, learn from one another's journeys, and establish a professional network that will benefit you throughout your career in aviation.
The course comes with the full access to our PILOT APTITUDE TEST practice software.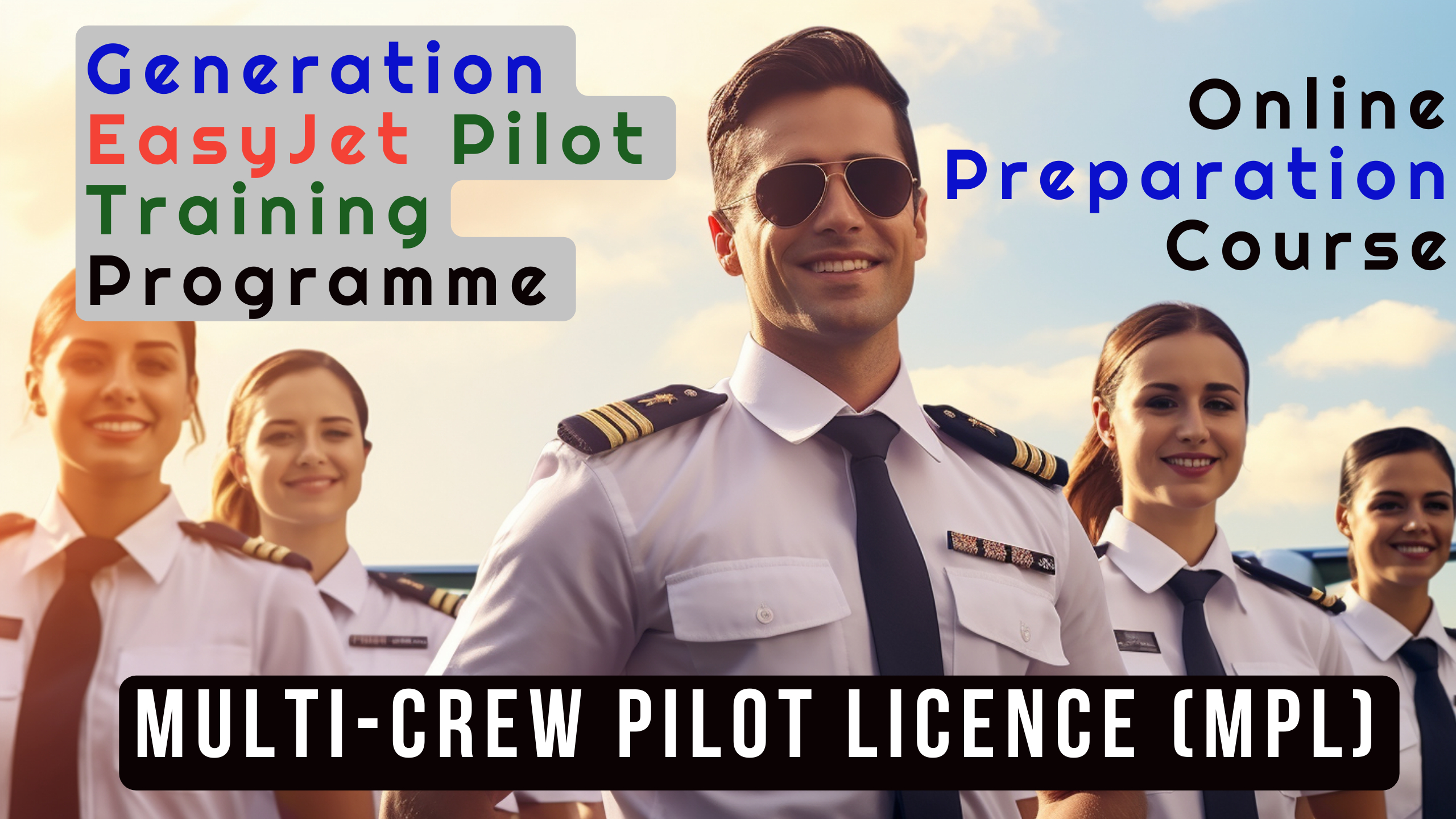 The selection process for the Generation easyJet program, jointly conducted by CAE and easyJet, unfolds in three key phases:
Phase 1: Initial Online Screening
In this phase, the CAE evaluation team will scrutinize all submitted applications to verify if they meet the Generation easyJet entry criteria. Those who clear this initial screening will be invited to proceed to the Pilot Aptitude Testing.
Phase 2: The ADAPT Examination
Candidates who successfully navigate the first phase will be called for the second stage, either virtually or at a designated CAE facility in Europe. This phase will encompass:
Computerized Examinations
Tests for pilot aptitude, such as hand-eye coordination, motor abilities, and spatial recognition
Evaluation of academic, mathematical, and technical skills
A multiple-choice questionnaire focused on technical understanding
A test assessing the ability to manage multiple tasks simultaneously
Phase 3: Collaborative Exercises and Individual Interview
The final stage will consist of:
Group-based Team Activities
One-on-One Interviews
Upon successfully meeting the required standards in this phase, you will be extended an offer to join as an easyJet MPL cadet. Alternatively, you may be presented with other pathways to initiate your pilot training, with the potential to join the Generation easyJet program upon successful completion.
*Note: Depending on your nationality, you may also be required to pass a Versant English proficiency test. Always refer to official website for latest information.
Why Should you join the preparation course?
Application process assistance.

Guidance to acquire educational loan.

Documentation assistance (NIOS, Medical, Board verification, Computer number Etc.. )

Study materials.

Mock interview sessions.

Performance monitoring and tracking system.

Online Classes.
Qualification Criteria:
Must be at least 18 years old by the time the course commences
Possess unrestricted residency and employment rights in the UK, EEA, EU, or Switzerland
Submit verified academic credentials showing successful completion of High School/Secondary School in Maths, English, any Science, and two additional subjects
Proficient in both spoken and written English
Height requirements range from a minimum of 5'2" (157 cm) up to the maximum allowed for Airbus cockpit specifications
Capability to secure a Class 1 medical certificate
Course Curriculum
About Generation EasyJet Cadet Pilot Program Assessment Test
Available in days
days after you enroll
Indigo Cadet Pilot Computer Based Testing.
Available in days
days after you enroll
Verbal reasoning for Airline test
Available in days
days after you enroll
Frequently Asked Questions
When does the course start and finish?
The course starts now and give access for one year. You can extend the course validity for another additional year with no extra cost, just by sending a request email to
[email protected]
How long do I have access to the course?
One year normal access + One year additional access.
What if I am unhappy with the course?
We would never want you to be unhappy! If you are unsatisfied with your purchase, contact us in the first 7 days and we will give you a full refund.
I don't know when will next Generation EasyJet Pilot Training Assessment Test come. Should I join now?
Yes, No need to worry of your subscription. You can join now and hold your course validity until your assessment date comes. You can reactivate your course account anytime you want.
Is 2024 too late to join the Generation EasyJet Pilo program?
It is never late to join a cadet pilot program. Whenever you just get a chance, grab it.
Is previous flight training experience or a PPL required?
You do not need previous flying experience to apply.
Must I already possess an EASA class 1 medical to apply?
No, but to start training, a cadet pilot must hold a valid Class 1 medical certificate.
How can I best prepare for the skills assessment for this programme?
Don't worry. We got you covered. You can join the course and go through all the lectures and modules we provided in the course step by step to prepare for the skill assessment test.
Disclaimer
The "Generation easyJet Cadet Pilot Program" is a registered trademark solely owned by easyJet and CAE. Aviator Cloud is an independent entity and has no direct or indirect affiliation, endorsement, or partnership with easyJet or CAE. easyJet and CAE reserve the exclusive rights to continue, discontinue, or modify any aspect of the selection process for their Cadet Pilot Program at their discretion.
The primary objective of our "Generation EasyJet Pilot Training Program Online Preparation Course" is to assist and enhance the skills of aspiring candidates. Enrollment in this preparation course does not, in any way, guarantee or assure your selection into the aforementioned "Generation" Cadet Pilot Program by easyJet and CAE.